Verschillende architectuursoorten
Lunet architecten is gespecialiseerd in verschillende architectuursoorten. Of u nu op zoek bent naar een architect voor de verbouw van uw woning, naar een architect voor het bouwen van een nieuwbouwbungalow of naar een architect voor het realiseren van een moderne woningrenovatie. Als architect in Den Bosch en omgeving zijn we u graag van dienst. Wij zijn gespecialiseerd in levensloopbestendige architectuur. Ook wanneer u een dagje ouder wordt kunnen we er samen met u voor zorgen dat u in uw geliefde droomwoning kunt blijven wonen. Wij bespreken uw persoonlijke ideeën, wensen en behoeften zodat we voor u een ontwerp op maat kunnen maken.
Een ontwerp op maat laten maken
Op het moment dat u uw woning levensloopbestendig wilt laten maken, gaat u op zoek naar een architect die gespecialiseerd is in verbouw. Zoek niet verder want die heeft u gevonden. Als architect in Vught kunnen we u van dienst zijn met betrekking tot diverse zaken. Of u nu een modern ontwerp wilt laten maken van uw droomwoning waarbij de nieuwste technieken gebruikt worden, of omdat u de verbouwing graag vergunningvrij wilt. Op het moment dat u ons als gespecialiseerde architect in verbouw inschakelt, zijn we u niet alleen van dienst met betrekking tot het maken van een modern en duurzaam woningontwerp. Ook daarna willen we u zoveel mogelijk ontzorgen. Wij bieden gedurende het hele proces de bouwbegeleiding aan die u nodig heeft.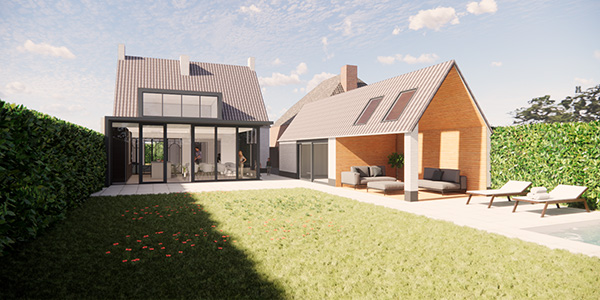 De werkwijze van ons als gespecialiseerde architect in verbouw is transparant. Dit zodat we u zo goed mogelijk van dienst kunnen zijn. Met behulp van het team wat bestaat uit vakkundige specialisten wat achter ons staat, wordt uw droomwoning tot in het kleinste detail voor u gerealiseerd. Wanneer u tevreden bent over het eindresultaat zijn wij dit ook. Of u nu op zoek bent naar een architectenbureau Vught, of naar een architectenbureau in Tilburg, samen met u en het team wat achter ons staat zorgen we ervoor dat u straks optimaal kunt genieten van uw droomwoning. Ook op het moment dat u een dagje ouder wordt. Door uzelf voor te bereiden op de toekomst hoef u uw geliefde stekje op latere leeftijd niet achter te laten.