Wilt u een moderne aanbouw aan uw woning realiseren, of wilt u een moderne villa of bungalow laten bouwen? Lunet architecten is dé architect in Vught die u hierbij van dienst kan zijn. Wij begeleiden u gedurende het hele proces. Na het gesprek waarbij we uw wensen en behoeften in kaart brengen, volgt er een op maat gemaakt modern ontwerp. Op het moment dat u akkoord gaat met dit ontwerp, zullen we u ook ontzorgen met betrekking tot de rest van het proces. Zo blijven we als architect in Den Bosch en omgeving betrokken tot na de oplevering. We werken samen met een team van vakkundige specialisten die hun werk tot in de puntjes verstaan. Zij leveren onder toeziend oog van ons een optimale bijdrage aan het voor u te realiseren bouwproject.
Een bouwproject laten realiseren
Bij het laten realiseren van een bouwproject komen vaak heel wat zaken kijken. Hierbij kunt u onder andere denken aan het aanvragen van vergunningen, het in kaart brengen van wensen en behoeften, het zoeken naar de juiste middelen en materialen en het zoeken naar de juiste specialisten. Wij van Lunet architecten nemen zaken als deze u uit handen. Wij maken niet alleen een woningontwerp voor u, maar we bieden u eveneens de bouwbegeleiding die u nodig heeft. Samen met u kijken we naar de mogelijkheden zodat we indien mogelijk vergunningsvrij kunnen verbouwen, renoveren of bouwen. Wij vinden duurzaamheid belangrijk, waardoor we zoveel mogelijk duurzame producten en materialen zullen gebruiken.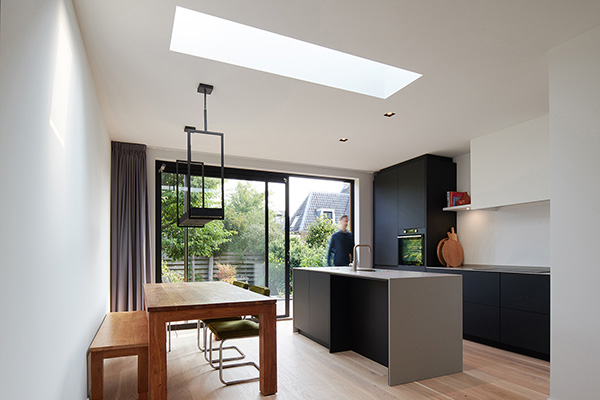 Duurzaam wonen is hét wonen van de toekomst. Het is daarom ook niet voor niets dat wij zoveel mogelijk streven naar duurzame architectuur. Of u nu uw huidige woning levensbestendig wilt laten maken of een nieuwe moderne villa wilt laten bouwen, wij streven samen met u naar duurzaam wonen. Hierdoor kunt u profiteren van alle voordelen die duurzaamheid kan bieden. Zo kunnen we na overleg met u een waterpomp in uw woning aan laten sluiten en zonnepanelen op het dak van uw woning laten plaatsen. Geen gebruik van gas en zo min mogelijk gebruik maken van grijze stroom dus. U beschikt als het aan ons ligt straks niet alleen over uw droomwoning maar ook over een woning waarmee u zoveel mogelijk kunt besparen op uw vaste lasten.